This sesame seeds cleaning and drying processing line is mainly used to wash and dry the sesame seeds. It also fits for the cleaning and drying of wheat, quinoa, rinsic, rape seeds, etc. It is a complete processing line from sesame seeds feeding to cleaned and dried sesame seeds collecting.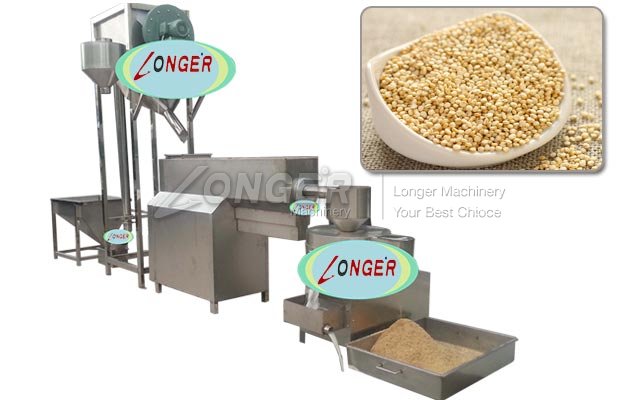 The main devices of this sesame cleaning and drying process line:
1.Penumatic elevator: The pneumatic hoist is used to carry the sesame seeds to the washing machine .
2.Washing machine: The washing machine can clean the sesame seeds with water, removing the contaminant or dust and other impurities.
3.Dewatering machine: It removes the used water by utilizing centrifugal force generated by the rotation of the cone drum.
4.Roasting machine: The sesame seeds will be roasted evenly and uniformly by the roasting machine In order to make the sesame seeds more suitable for shelf and storage.
5.Cooling machine: this cooling machine is used to cool and store the roasted sesame seeds.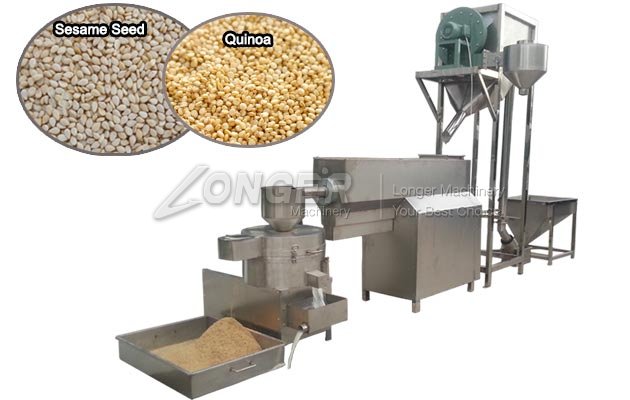 Features of Industrial Sesame Cleaning Machine
1. Pneumatic hoister with low noise and no damage to the sesame seeds, the gas flow will remove the light fruit leaves and little broken skin while carring the sesame seeds.
1. This cleaning and drying machine is made of stainless steel materials, convenient to clean and durable.
2. The drying machine can dry the sesame seeds to a lower water content, reduce the roasting time and save energy.
3. It is multi-functional, can clean and dry sesame seeds, rape seed, wheat, quinoa, raisin or other granular materials.
4. High efficiency, easy operation and maintenance.