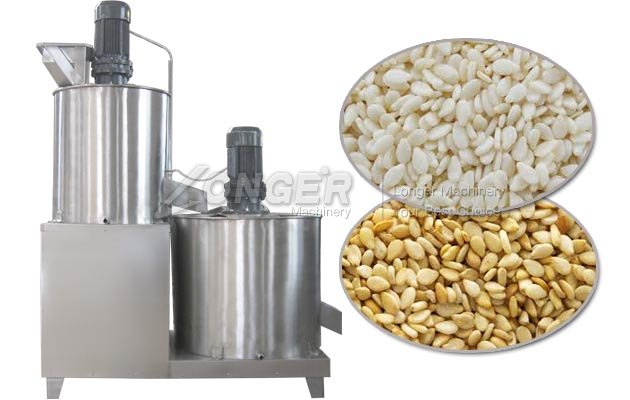 This
sesame hulling machine
is designed especially for peeling the sesame skin from the sesame seeds. For the sesame skin tastes a little bit, most of sesame seeds food products need peeled sesame seeds as raw materials. This sesame hulling machine is widely used in food industry,such as the sesame brittle, sesame candy, sesame biscuits, sesame bread, etc.

Working principle of this sesame seeds hulling machine:
This sesame seeds peeling machine adopts wet peeling principle, firstly, the user put the sesame seeds into the tank of this machine in which the warm water was mixed with caustic soda to soak the sesame seeds, and the sesame seeds will be mixed evenly by the stirring function of the composite blender. Secondly, the soaked sesame seeds will be peeled by the friction between sesame seeds and the blender and sesame seeds each other. Finally, the skin will be out of the machine together with the water while the sesame seeds kernels are stopped by the separator inside the machine.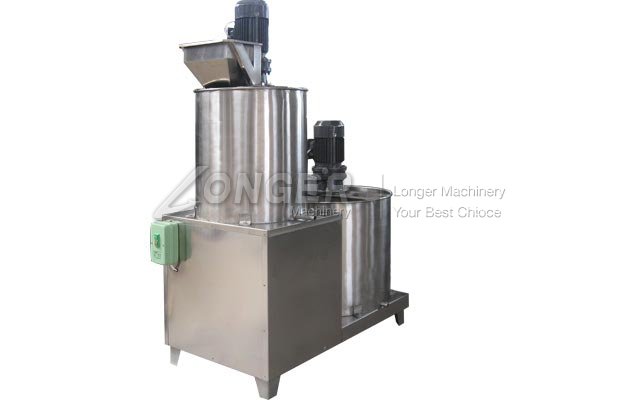 Advantages of sesame seeds peeling machine:
1.Reasonable design, compact structure.
2.Easy operation and maintenance.
3.Stainless steel material, durable.
4.High efficiency and high peeling rate.
5.Sesame skin and kernels can be separated automatically.
6.This machine is equipped with composite blender, the sesame seeds materials can be stirred evenly and peeled thoroughly.

We also offer other sesame processing machine, such as sesame roasting machine, sesame paste grinding machine, etc. If you are interested in it, please feel free to contact us.