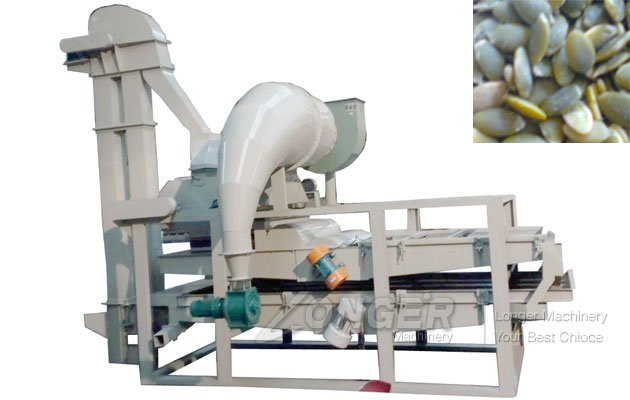 The
pumpkin seeds hulling machine
is used to hull the pumpkin seeds, also can shell watermelon seeds, snake gourd seed and other melon seeds, and finally realize the seeds' shelling, cleaning, sorting. For the pumpkin seeds are graded before shelling, the shelling effect is better, the production is high efficient.

Structure:
It is mainly composed of two units, cleaning and separating unit, shelling and sorting unit.
Cleaning and grading unit: clean the stones and other impurities among the raw materials, and then to sorting and grading them into 7 levels according to the different size.
Shelling and sorting: The soaked raw materials will be shelled, and the seeds haven't be hulled can return back automatically to the shelling machine to have another shelling process until all the seeds are all shelled.

Advantages:
1.Adopt wet shelling method, soaked pumpkin seeds can be shelled more efficiently.
2.The technology of the machine has been improved,the shelling efficiency is higher, the breaking rate is lower.
3.Circularly shelling method ensure that all of the pumpkin seeds can be shelled.
4.Adopt vibration pressure collecting method instead of air blowing method, reduces the generation of dust during collecting the pumpkin shells.
5.The increase of the sieving time and sieve area, reduces the damage caused by the pumpkin kernels' returning back to the machine.
6.The sorting sieve can be replaced according to the size of pumpkin seeds.
7.The elastic ball design reduces the hole pasted phenomenon.
8.Lengthened and widened sorting sieve surface made the shelling and sorting more thoroughly.