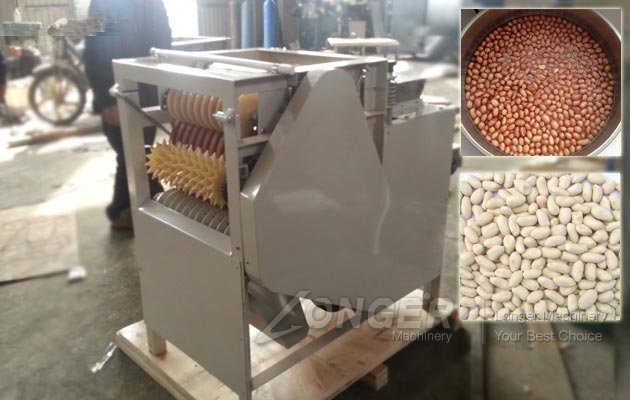 Product introduction for
Groundnut Skin Peeling Machine
Peanut wet peeling machine is professional equipment for peanut red skin removing. Widely used in the production of Fried peanuts, multi-flavor peanuts, peanut cake, peanut candy, peanut milk (cream), peanut protein powder and rice pudding, sauce, and canned products such as the early stage of the strip (skin). This machine is unique in high peeling rate, peanuts after peeling are not broken, colour and lustre is white, invariance of the protein. Peeling, at the same time, the skin, peanut kernel separate apart automatically. In addition, the machine has small volume, low energy consumption, high efficiency, easy operation, etc.
Working Principle of Wet Peanut Peeler Machine
Peanut wet peeling machine, also named soybean wet peeling machine, peas peeling machine, pour soaked soybean, peanuts, almond into the machine hopper, through the feeder screen into peeling lugs, in the rotating, at the same time, through friction peel the red skin of peanuts, separate skin and kernel at the same time.
Related Product:
Dry Type Peanut Peeling Machine