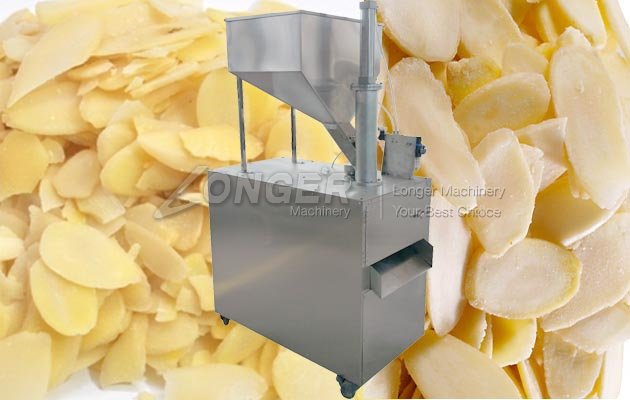 This
multi-functional almond slice cutting machine
can make various nuts slices, such as peanut slices, almond slices, cashew nut slices, etc. It is usually used in the slicing process in food industry, or other food productions, such as leisure food, bread, candy, cake, ice cream, brittle, etc.
Good Quality of the machine:
The machine body is made of stainless steel material, anti-rust, durable and easy to clean.
The material of the slicing cutter is high speed steel of good quality, wear resistant, has a long service life.

Good quality of the almond slices:
The machine has a fast slicing speed, the almond slices have even surface and smooth slice edge.
The thickness of almond slices can be adjusted between 0.05 to 1.2 mm.
The machine adopts stainless steel materials, the almond slices are sanitary and conform to the food hygiene standard.

Benefits for the users:
Automatically operation reduces the user' s workload, and save the labor.
The user can use one machine to slice many kinds of materials.
It is large capacity and high efficient, can save production cost and improve the productivity.
It is of good quality with competitive price, so it is a small investment and quick return project for users.

Tips: If you want to produce the almond slices without skin, you can use a almond peeling machine to combine with it, please feel free to contact us to learn more about this machine.