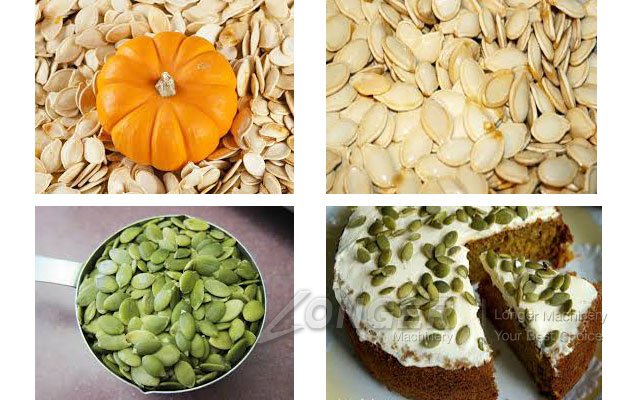 Pumpkin seeds are very beneficial for our body health, eating appropriate amount of pumpkin seeds every day can help us to prevent from many diseases and be healthy.
Benefits of eating pumpkin seeds:
1.Pumpkin seeds are rich in two kinds of nutrients, which are very important for gingival and alveolar bone.
Phosphorus contains large amounts of phosphorus, about 1159 mg in 100 grams of pumpkin seeds, phosphorus is an important substance for the elder's alveolar atrophy.
Carotene and vitamin E exist in pumpkin seeds largely, they can directly nourish the gums, prevent gingival atrophy.
2.Pumpkin seeds have insecticidal effect.Pumpkin seeds have efficacy of killing the parasite in the human body such as hookworm and pinworm. It also helps on the killing of schistosomiasis japonicum, and it is the preferred therapeutic products.
3.Pumpkin seeds have diet therapy effect on treatment of prostate disease. This is because prostate hormone secretion depends on fatty acid, and pumpkin is rich in fatty acids, eating pumpkin seeds can help make the prostate maintain good function. Active ingredients of the prostatitis can eliminate the initial swelling, and at the same time prevent people from prostate cancer.
4.Other benefits:
Pumpkin seeds are rich in pantothenic acid which can relieve angina, and lower blood pressure. In addition, pumpkin seeds are also rich in potassium which can help you stretch your legs and prevent leg cramps.

It is not good to peel the pumpkin seeds by teeth.
Pumpkin seeds are suitable for most of people to eat, especially for people living in areas with poor sanitation and men, but it is not good to shell them by our teeth, because that will make our saliva stick to the shells and lost, saliva has an efficacy of wetting and dissoluting food, making food easy to swallow and absorption, and it can also clean and protect our oral cavity, and nourish kidney function. Therefore, we had better remove the shells of pumkin seeds by hands or by pumpkin seeds shelling machine.