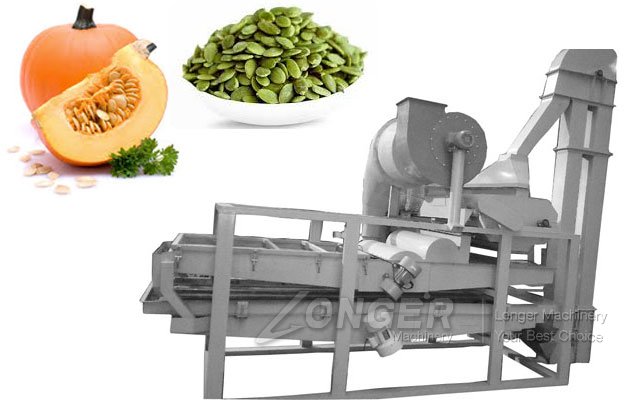 The pumpkin seed has many benefits for our health. Firstly, it is rich in phosphorus, carotene and vitamin E, such nutrients are very important for gingival and alveolar bone.Secondly, Pumpkin seeds have insecticidal effect, such as hookworm, pinworm, schistosomiasis japonicum etc.Thirdly, it has diet therapy effect on treatment of prostate disease.

However, before we eat it, the shell must be removed, and it is not good to shell them by our teeth, for that will make our saliva stick to the shells and lost, saliva has an important efficacy of wetting and dissoluting food, make food easy to swallow, and it can also clean and protect our oral cavity, nourish kidney function. Therefore, the pumpkin seeds we bought are shelled pumpkin seeds by pumpkin seeds shelling machine.

If you have many pumpkin seeds to deal with, I will introduce a machine for you, the pumpkin seeds hulling machine.This machine can hull the pumpkin seeds, watermelon seeds, snake gourd seeds high efficiently and continuously, it is suitable for the pumpkin seeds shelling process with a large quantity.This machine can clean and grade the pumpkins to different levels before shelling, during the shelling process, the unshelled pumpkins will automatically return back to the machine to have another shelling until all of the pumpkin seeds are shelled.
This is the most advanced shelling machine for pumpkin seeds at present, by using this machine, the production cost is reduced a lot,the labor and time is also saved. If you are interested in this machine,please
contact us
to get more details about this machine.