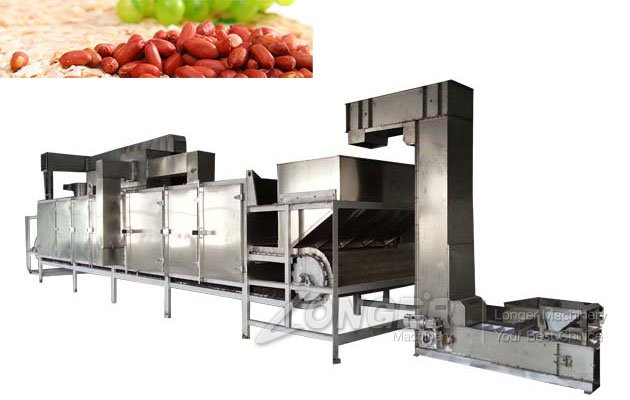 Among many kinds of roasters, many people don't know which roaster suitable for their business. I introduce you this belt roasting machine which is universal for many materials, such as nuts, grain, chinese medicine, etc.
Belt nuts roasting machine
is a continuous type roasting equipment used in batch productions, mostly used for materials in sheet, strip, granular and with good permeability, particularly suitable for materials with high moisture content and do not allow the high temperature such as dehydrated vegetables, catalyst and Chinese medicine yinpian. This belt roasting machine has advantages of fast roasting speed, high evaporation strength and good product quality, for the dehydration of filter cake paste material, the granulation or strip made of materials is needed before roasting.
Belt roasting machine is composed of several independent units, each unit includes the circulation fan, heating devices, alone or common fresh air pumped in system and exhaust system, the performance of the roasting machine directly affects the quality and value of roasted food, various parameters of this machine can be independently controlled, so as to ensure the reliability of belt roaster and superior operating condition.

The advantages of this machine:
The materials on the belt are affected by vibration and impact so slightly that the materials are not easy broken to pulverization, so we can apply it to dry some materials do not allow fracture. It is sutiable for low temperature drying but also for high temperature roasting. There is a door on both sides, so it is convenient for us to clean and mantein it regularly. You can also adjust the volume of air, heating temperature, raw materials's staying time, conveying speed according to your need. Most of hot air in the machine is recycling and energy is saved highly. The unique wind device make the hot air distribution more uniform, ensure the consistency of product quality. What's more convenient, heat source can use steam, heat conduction oil, electricity or coal (oil) available.

Welcome to our factory to learn more about this machine, we hope to offer your ideal machinery for your business.